Dreaming up the perfect engagement activity: GENDERACTIONplus' first capacity building workshop
20 January 2023
Back to events
In order to ensure real impact and buy-in, stakeholder and citizen engagement are an important part of EU-funded projects. But what is the key to effective stakeholder engagement? How do you design a successful engagement activity? And which participatory methodologies are the most effective?
In response to a needs survey carried out at the start of GENDERACTIONplus, the project held its first capacity building workshop for the consortium on 17 January on the topic of citizen and stakeholder engagement. The workshop was run by the Swedish partner, VA (Public & Science), which acts as a national expert hub for public engagement, citizen science and science communication, and has many years' experience of running engagement activities both within EU-funded and national projects.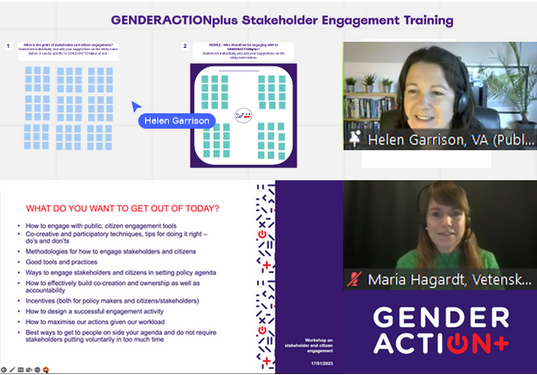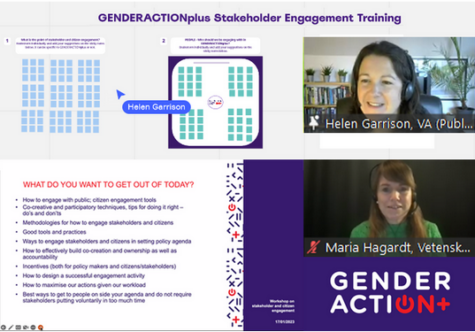 The 2.5 hour online workshop was designed to provide project partners with a common understanding as well as inspiration for and tips on how to plan and undertake stakeholder and citizen engagement.
The first part of the workshop looked at different objectives of stakeholder and citizen engagement. When asked about its importance for GENDERACTIONplus, suggestions included "building ownership", "creating alliances", "building awareness", "creating a community of practice", "supporting and sustaining change", "broadening perspectives" and "increasing acceptance and implementation of gender equality goals and policies." Participants also carried out a stakeholder mapping to better understand the varied stakeholders that should potentially be engaged throughout the project at local, national, European and even global level.
Key principles of engagement were also highlighted, with an emphasis on ensuring "a two-way process, involving interaction and listening, with the goal of generating mutual benefit." "Engagement is all about creating opportunities for dialogue and ensuring that it is beneficial for all those involved, which subsequently helps to foster trust and understanding," explained Maria Hagardt from VA, who ran the workshop together with her colleague Helen Garrison.
Maria also outlined how planning of any engagement activities should start with the 3Ps:
Purpose – why should you engage?
People – who do you need to engage with?
Process – how should you engage?
"In order to have maximum impact, you have to be really clear about what you want to achieve, who you want to engage, and then you can decide on the best methodology," she explained. 
In an exercise called "Dreams and nightmares", participants were asked to reflect with others on what successful engagement looks like as well as what might go wrong. Dream scenarios included "engagement in discussion and activities", "greater interest in the topic", "increased motivation for further work", as well as "laughter and fun" whereas nightmares included "a lack of interest", "resistance", "heated discussions" and a "low response rate."
To provide inspiration, VA also presented examples of different types of participatory methodologies and how they have been applied in other EU and national projects. The engagement methodologies showcased included science cafés, public dialogues, world cafés, co-creation workshops, campaigns, brainwalks, interactive exhibitions and dialogue workshops, with explanations of their strengths and weaknesses and how they can be used with different target groups.
"We selected to showcase a range of different methodologies that we ourselves have used in projects, to give partners an insight into what might be possible. Using an interesting participatory format can make all the difference," explained Maria.
"Often face-to-face engagement is viewed as the most effective way of creating true dialogue, but due to time and geographical constraints, this sometimes isn't possible. To show how you can create interaction as well as incorporate an element of fun in an online environment, we delivered the workshop using a selection of methodologies, tools and exercises and provided tips on what to think about when planning virtual activities," explained Helen Garrison.
In the break-out groups, participants were asked to create a "persona" of an engaged stakeholder/citizen that had participated in a  GENDERACTIONplus activity. "The aim was to get participants thinking creatively about the potential impact that an engagement activity might have on an individual and how it might motivate them to take action," commented Helen.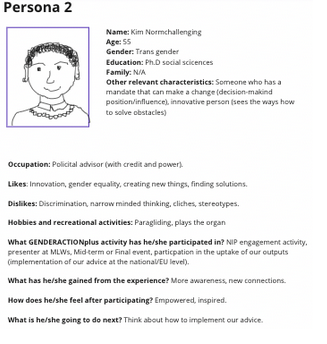 One of the group's "persona" of an engaged GENDERACTIONplus stakeholder
In addition to a number of specific engagement actions planned throughout the project, the consortium will also be developing national impact plans. "Hopefully, the workshop has given partners food for thought so that they can start strategically looking at how they might incorporate stakeholder as well as citizen engagement into different project activities. Due to the policy focus of the project, partners are generally more comfortable (and have more experience) with stakeholder engagement, but gender equality affects the whole of society, so it is important that we engage with the wider public on these issues too," stressed Helen.
You can read more about the first GENDERACTIONplus stakeholder engagement activity that took place in September 2022 here.