1st GENDERACTIONplus engagement event
22 September 2022
Back to events
Consultation brings together student and early-career researcher organisations across Europe to identify needs on tackling gender-based violence in academia
The EU-funded GENDERACTIONplus project held its first stakeholder engagement event on 21 September 2022 to discuss ways of tackling gender-based violence in academia. Representatives of student and early-career researcher associations from across Europe shared their views and needs during the online workshop.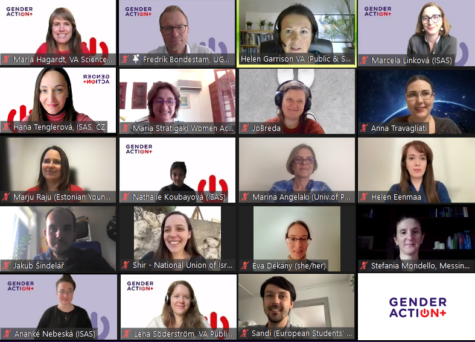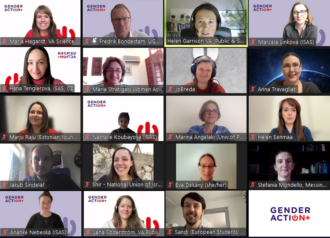 Caption: Participants in the online workshop represented student and early-career researcher associations from 10 countries. Photo: GENDERACTIONplus
At the start of the workshop,  Marcela Linková, GENDERACTIONplus project coordinator project and Head of the Centre for Gender and Science at  the Czech Academy of Sciences in the Czech Republic, provided an overview of the aims and planned impacts of the GENDERACTIONplus project and how it is working to advance gender equality in the European Research Area, with gender-based violence in academia as one of its five key thematic areas.
This was followed by an interesting yet concerning overview by Fredrik Bondestam, Director of the Swedish Secretariat for Gender Research, of the current situation with regards to gender-based violence in Europe as well as the different forms of violence that GBV encapsulates.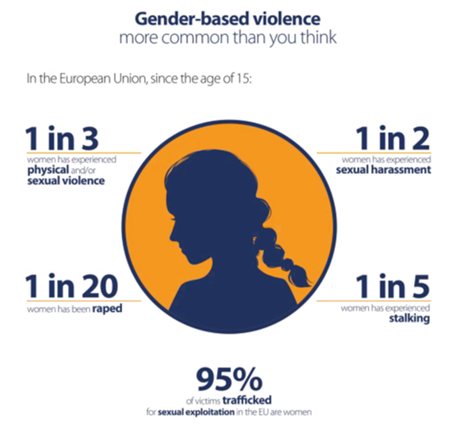 Sources: European Union Agency for Fundamental Rights, Violence against women: an EU-wide survey – Results at a glance, 2014 Eurostat, Trafficking in human beings, 2015
Image: Margaret Jane Wollman/Shutterstock.com
In response to an online poll, 77% of the representatives attending the workshop said that their organisation had addressed the issue of GBV, with some providing examples of activities they had been involved in, such as training, gender equality plans, research or awareness raising.
Through smaller group discussions, participants were able to share the main issues and most pressing needs as well as put forward concrete recommendations for tackling gender-based violence.
Some of the key issues highlighted during the discussions included a need for robust institutional policies and procedures for reporting and handling cases, more training and awareness raising, clear and convincing definitions of gender-based violence as well as reliable data and evidence to support effective actions.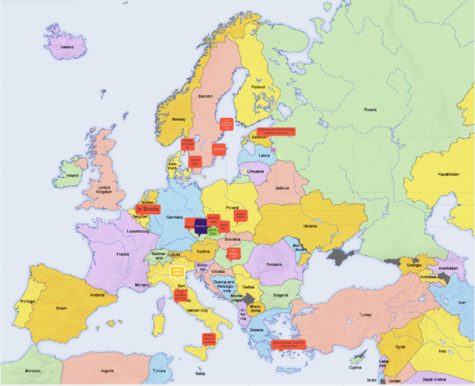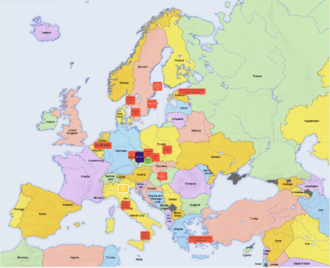 Image: A map on which participants marked which country they were representing.
The input gathered during the workshop is now being incorporated into a Call for Action to be published to advance the policy debate in relation to the conference "Ending gender-based violence in academia: Toward gender-equal, safe and inclusive research and higher education" taking place on 24-25 November in Prague, as part of the Czech Presidency of the Council of the EU. In addition, the recommendations will be used to inform a toolkit being developed by the H2020 sister project UniSAFE as well as the GENDERACTIONplus project work package focused on gender-based violence.
Commenting on the workshop, Marcela Linková said "I am really happy that GENDERACTIONplus could launch its engagement activities with a topic so close to my heart. Gender-based violence in academia is a serious issue that requires our utmost attention. I really appreciate the engagement of the early-career associations and the invaluable insights they have contributed, and hope that this is a start of an ongoing cooperation with early-career researchers in our consortium."
Author: Helen Garrison
The GENDERACTIONplus project is funded by the European Union's Horizon Europe research and innovation programme and involves a consortium of 26 organisations from 21 European countries. Its mission is to advance gender equality in the European Research Area through capacity building, the exchange and coordination of policy, and the provision of strategic policy advice.
Follow us on Twitter and YouTube and subscribe to our newsletter below.